Technobd Limited as Your Ecommerce Development Partner

Technobd embarked on its ecommerce journey in 2005. Our dedication and expertise have consistently grown over the years, assisting businesses in launching, migrating, revamping, enhancing, and broadening their digital footprint.
Our cohesive team of 50+ professionals is equipped to handle ecommerce projects of any magnitude, thanks to a vast spectrum of roles, expertise, and skills.
Addressing Three Common Scenarios

In alignment with your business vision, we plan and construct a webstore that performs all necessary functions flawlessly. We leverage our experience and creative prowess to propose the most effective strategies for showcasing your products and converting your target audience.
Beyond overcoming technical limitations or inefficiencies like cumbersome customization or exorbitant maintenance costs, we pinpoint potential improvements in design and functionality to bolster your ecommerce presence when migrating your business to a new digital platform.
We offer a range of services for webstores already in operation. The scope and duration of the work are entirely up to you, ranging from one-off troubleshooting to sporadic or ongoing collaboration.
Elevate Your Ecommerce Software with Us

Ecommerce development entails designing a visually appealing customer interface and developing back-end logic, culminating in a fully functional online store.
Providing advice on business, technology, and operational aspects, we assist in enhancing your operational efficiency and managing the overall customer experience.

REQUEST A QUOTE

Transitioning from monolithic to decoupled architectures for increased functional flexibility, we're also proficient in advanced technologies like voice recognition or 3D modeling, which can set your brand apart.

REQUEST A QUOTE

While there are many platforms for entering the ecommerce market, such as Shopify, Woocommerce, Drupal, and BigCommerce, we work with leading platforms to create scalable, future-ready ecommerce solutions that grow alongside your business ambitions.

REQUEST A QUOTE

Offer your customers a branded mobile platform for convenient, anytime, anywhere shopping.

REQUEST A QUOTE

Ecommerce Front-End Development

We craft contemporary digital storefronts using tried-and-true programming languages and JavaScript frameworks like AngularJS, ReactJS, Meteor, Vue.js, Next.js, Ember.js.

Ecommerce Back-End Development

We build the business logic of your ecommerce app in the back-end, employing languages such as PHP, Java, Python, C++, Node.js, Go, .NET.

Ecommerce Website Design

Our ecommerce website design services encapsulate both UX and UI aspects. We adhere to best practices in target audience research, competitor analysis, UI kit branding, and usability testing.

Ecommerce Integrations

Our ecommerce store development expertise is further augmented by API-based integration services to connect disparate systems and facilitate automated data exchange.

If your existing ecommerce solution is impeding business development, we assist in migrating to a more flexible and scalable architecture and transferring business data.

REQUEST A QUOTE
Crafting Robust and Agile Business Operations

Developing an ecommerce website is more than just curating an online space that showcases your products attractively and nudges customers towards making purchases. While we excel at that, our ecommerce development solutions extend to the construction of software that streamlines all back-office ecommerce operations.
Inventory Management
With our assistance, keep precise track of inventory across multiple storage locations. We offer:
Cutting-edge IoT-powered inventory tracking.
Demand-driven inventory planning.
Rule-guided inventory cataloging.
Automated generation of purchase orders.
Inventory return management.
Order Management
We streamline customer order processing across different sales channels and delivery methods, accounting for diverse packaging and delivery requirements.
Our services include:
Integration with all sales channels for centralized order collection.
Integration with inventory management software.
Rule-based order processing.
Order routing to the ideal order fulfillment center.
Different order execution scenarios, including pickup and delivery orders.
Return management.
Logistics Management
We support efficient and timely transportation of goods by enabling:
AI-assisted planning of shipping routes.
Real-time tracking of transportation progress.
RFID-enabled goods transportation condition monitoring.
Product Information Management
Eliminate redundant tasks related to product promotion across different sales channels by implementing a PIM system that offers:
Product data import.
Product cataloging.
Rule-based product data enrichment.
Product associations: upsells, cross-sells, bundles.
PIM integration with product distribution channels.
Digital Marketing Automation
We provide tools to expand your marketing activities across multiple channels:
Behavioral customer micro-segmentation.
Response-driven marketing campaigns.
Email marketing.
Conversational marketing via live chats, chatbots, messaging apps.
Loyalty programs.
Retail BI
We guide you on leveraging your business data for decision-making:
Data aggregation from diverse internal and external data sources.
Multidimensional data analysis.
Reporting on selected KPIs.
Delivering a Consistent Experience across All Channels

We employ omnichannel platforms to interlink business processes and personalize customer experiences across both physical and digital channels.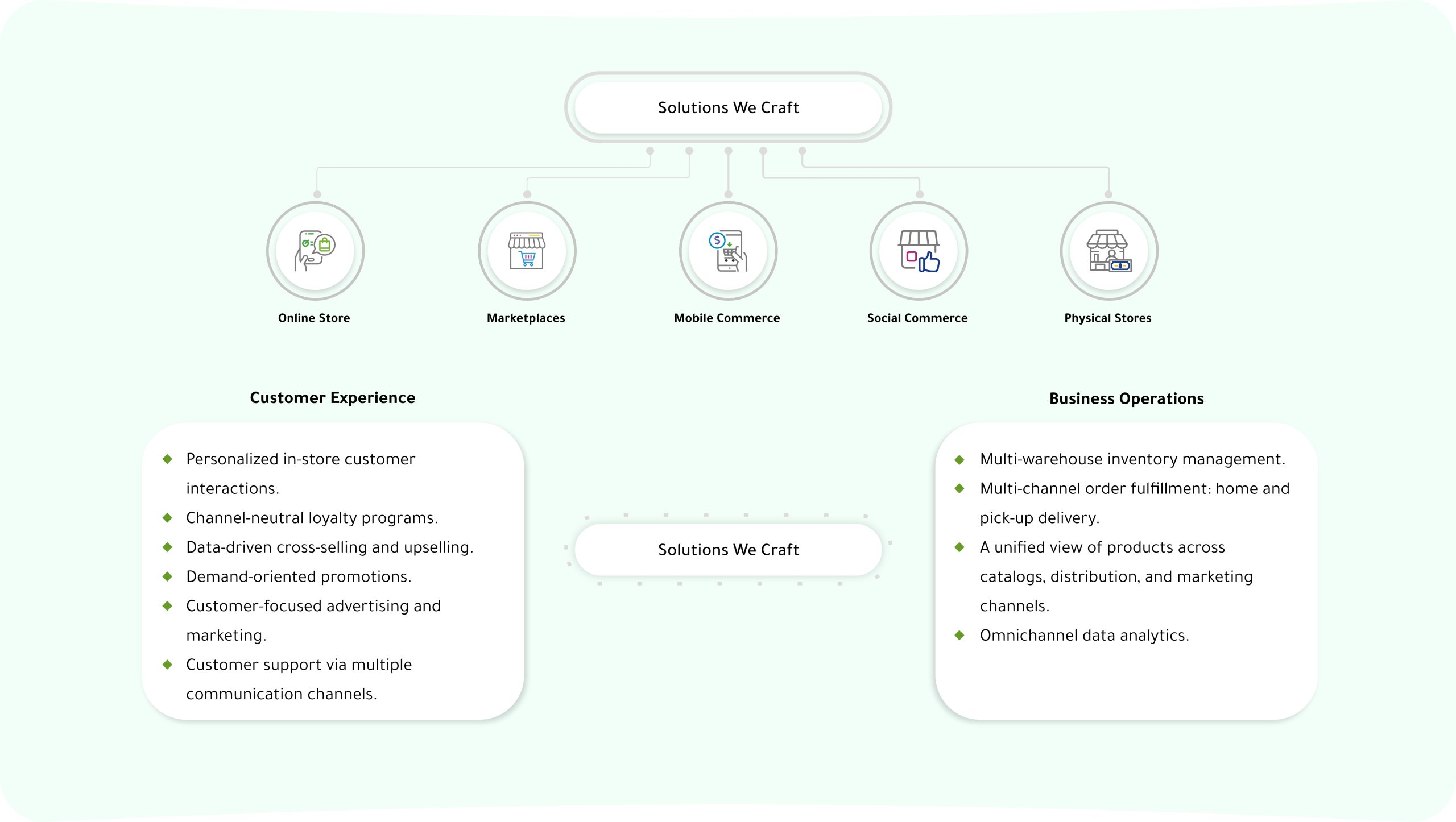 Cost of Premium Ecommerce Store Development

Given that businesses of varying sizes have distinct needs, we base our webstore cost estimates mainly on the company size. However, several other factors may influence the project cost:
Hosting: cloud or on-premises.
Platform-based or bespoke solution.
List of features.
Web design: template-based or custom.
Cross-system integrations.
Experience level and rate of ecommerce web developers and designers.
Entry-level ecommerce functionality and template-based design.
Starting from $25,000.
Custom web design and functionality.
Starting from $75,000.
Bespoke visual interface and business logic;
Integration with corporate systems.
Starting from $200,000.
Swift and Structured Process for New Ecommerce Launches

Our ecommerce website design and development services craft a solution uniquely tailored to your business in terms of visual design, functionality, and customer experience strategies. We promise a well-orchestrated ecommerce development process, guaranteeing high efficiency and adherence to deadlines. If your business is geared towards reaping value quickly from key features, we suggest adding MVP creation and launch as an additional step in the process, which can later evolve into successful large-scale software.